"Da Bears" compete in VEX Robotics
The VEX Robotics Competition was held at St. Cloud River's Edge Convention Center the first weekend in February. Teams competed for the world-qualifying event. Teams were from high schools, Boy Scout troops, and 4-H programs from around Minnesota. Clearbrook-Gonvick High School math and Robotics instructor Gus Vettleson took a team down for the competition. The event was hosted by St. Cloud Technical & Community College.
VEX Robotics Competition Starstruck is played on a 12'x12' square field shown in the photo. Two alliances — one "red" and one "blue" — composed of two teams each, compete in matches consisting of a fifteen second autonomous period followed by one minute and forty-five seconds of driver-controlled play.
The object of the game is to attain a higher score than the opposing Alliance by Scoring your Stars and Cubes in your Zones and by Hanging Robots on your Hanging Bar.
An example of the Stars and Cubes for the Da Bears from Clearbrook-Gonvick High school can be seen in the photo.
Da Bears Robotics team in competition at St. Cloud. Three referees with two teams of three members each compete at the same time. The CG team is shown in the middle of the picture working their robot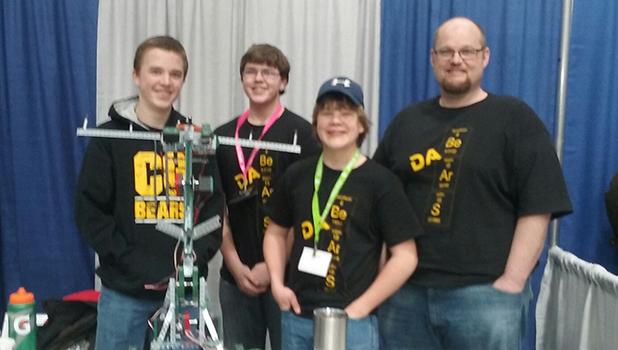 Pictured are team members Josh Lavin, Michael Tollefson, Brandon Quern with coach Gus Vettleson.
.